Summer Arts Classic: The Geography of Music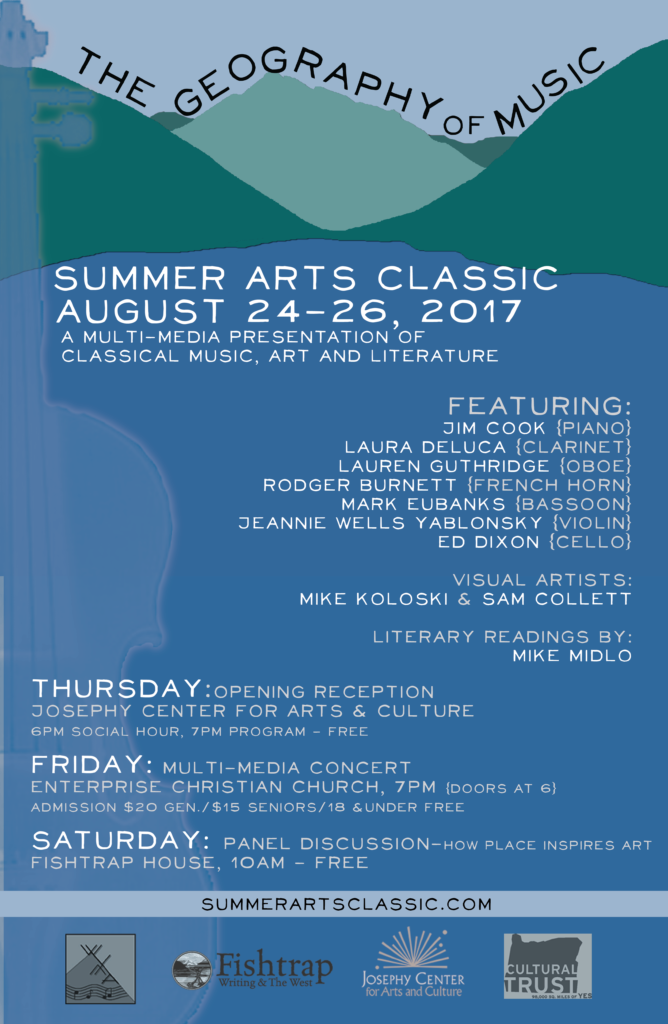 The Wallowa Valley Music Alliance, in collaboration with Fishtrap and the Josephy Center for Arts and Culture, will present a three-day program of interwoven music, literature, and art on August 24, 25 and 26, 2017.  "The Geography of Music", the performance on Friday night, August 25,, will be a multi-media concert using classical music, spoken word, and visual arts to interpret our connection over the ages to the Wallowa Mountains, Snake River, and Hells Canyon.
-The three days of events will begin with a reception on Thursday, August 24 at 7:00 pm at the Josephy Center in Joseph to introduce the musicians, writers, artists and photographers to the public. Attendees will have an opportunity to meet and ask questions of the artists while viewing the Josephy Center's exhibit of photographs of the Snake River and Hells Canyon. The evening will include the performance of a short piece of music complemented by an author's reading, as a preview of the main concert taking place the next night in Enterprise. Refreshments will be served. The reception is free to the public.
-On Friday, August 25 at 7:00 pm at the Enterprise Christian Church, there will be a full evening's concert of interwoven classical music, spoken word, and the visual arts, including real-time painting inspired by the artist's impressions of the music. The program presents the music of Stravinsky, Beethoven, Mozart, Bach, and an original composition by Mark Eubanks.
Musicians include Jim Cook (piano), Laura DeLuca (clarinet), Lauren Guthridge (oboe), Rodger Burnett (French horn), Mark Eubanks (bassoon), Jeannie Wells Yablonsky (violin), and Ed Dixon (cello).
Admission for the concert will be: $20 general, $15 for seniors, and free for youth age 18 and under. Refreshments will be provided.
-Fishtrap will host the final event on Saturday, August 26 at 10:00 am at the Coffin House, 400 E. Grant St, Enterprise. This will be a moderated panel discussion made up of visual, musical, and literary artists exploring how place informs and inspires the creation of art.  Admission is free.  Refreshments will be provided.
For more information, please contact event coordinator Bob Webb at (541) 432-0156 or 304 550-3799, and music program coordinator Mark Eubanks at bassoonbrothers@gmail.com.
---
About the Artists
Dr. James Cook is a native of the northwestern United States. He has degrees from the Juilliard School and the University of Southern California in piano performance. Dr. Cook has performed solo, chamber and concerto performances throughout the world, including China, Germany, Italy, France and Sweden. Concerto appearances include the Minneapolis Symphony, Salem, Oregon Symphony, Spokane Symphony, Peter Britt Festival and many University orchestras with repertoire from the Bartok Third Piano Concerto to Mozart and all Beethoven concertos. His repertoire is extensive, including the Baroque era and much contemporary music including the Crumb Makrokosmos and the Copland and Prokofief piano sonatas. Dr. Cook has worked with many musicians of fame, in accompanying and collaborative postures. This part of his professional life has included a performance of the Hindemith Ludus Tonalis on public television and at the Monday Evening Concerts in Los Angeles with Igor Stravinsky in attendance. He performed with the cellist Gabor Rejto, played in master classes at USC with Heifetz and Piatagorsky, and has accompanied the great opera baritone Simon Estes and the Tchaikovsky competition winner in violin, Eugene Fodor. He has taught at USC, California State at Fullerton, Willamette University, University of Wyoming and Boise State University. Repertoire includes all string, wind and brass chamber music, most vocal literature, solo literature of all composers from early Baroque to Crumb, Copland, Berio, Stravinsky , Prokofiev and Shostakovitch. He has particularly emphasized the music of Mozart and Bach, performing widely on the fortepiano and harpsichord. Current interests include the works of Chopin, Brahms and Beethoven. Concerto repertoire includes many Mozart concerti, the five Beethoven, two Mendelssohn, Schumann, Grieg, Bartok and Howard Quilling. In 1982 Dr. Cook was a soloist at the International Haydn celebration (250 years) in Fertoszentmikos, Hungary, the former summer residence of Haydn's patron, Prince Esterhazy.
Dr. Edward Dixon, conductor and cellist, has performed as soloist, chamber and orchestral musician throughout the United States and Europe and has worked in the Hollywood recording studios.  He received his Bachelor and Master of Music degrees from the University of Southern California and his doctorate from the University of Cincinnati College-Conservatory of Music. Formerly on the music faculties of the University of North Carolina-Greensboro, Central Washington University, and Whitman College, Dr. Dixon now divides his retirement between managing the Walla Walla Symphony and concertizing in the Pacific Northwest. A frequent performer, he has appeared as cello soloist with the Yakima, Wenatchee, Walla Walla and Mid-Columbia Symphonies among others and has most recently participated in the Siletz Bay and McCall Music Festivals.  He made his Carnegie Hall debut in 1987.  Dr. Dixon has been principal cellist of the Walla Walla Symphony since 1991 and the Mid-Columbia Symphony since 2010.
Laura DeLuca
Clarinetist Laura DeLuca joined the Seattle Symphony in 1986. She is also a co-founding member of Seattle Chamber Players, a contemporary music ensemble formed in 1989, boasting nearly 100 commissioned works. Music has been her passport to the world, with opportunities to perform in historic concert halls in Europe, Russia, China and South America. Closer to home, DeLuca regularly performs with Music of Remembrance and the Icicle Creek series, and has soloed with the Seattle Symphony, and the Seattle Youth, Cascade and Rainier symphonies. On February 11, 2011, a day of historic political uprising in Egypt (and her birthday), she premiered a newly commissioned concerto, Freedom, by Alissa Firsova, with the Northwest Sinfonietta. DeLuca has performed on over 100 recordings and has worked with distinguished composers and performers such as Jake Heggie, John Zorn, Paul Schoenfield and Artur Avanesov.
Mark Eubanks
The 2nd Movement of the Mozart Bassoon Concerto performed at a Seattle Symphony youth concert piqued young clarinetist Mark Eubanks's interest in the instrument.  By 15 he was playing 2nd bassoon with the Tacoma Symphony.  Eubanks was asked to join the Seattle Symphony and Opera as 2nd bassoon after a solo concerto at the University of Washington, a position he held for 10 years.   Summers found Eubanks at the Grand Teton Music festival, on woodwinds with Broadway shows, and touring with the San Francisco and Joffrey Ballets.   He received life long inspiration at workshops with the legendary flutist and master teacher, Marcel Moyse. For 30 years Eubanks was Principal Bassoon with the Oregon Symphony.  In Portland he performed the Mozart concerto on the waterfront for an audience of 10,000.  His rock and jazz interests saw him jamming on amplified wah-wah bassoon in local clubs, as a headliner at Portland's Jazz Quarry, and performing with jazz greats Gil Evans and Anthony Braxton. Eubanks's irreverent and humorous Bassoon Brothers quartet produced four CDs over 20 years.  Serious chamber music included performances with the Chamber Music Society of Lincoln Center and Chamber Music Northwest on both saxophone and bassoon. Mr. Eubanks's accomplishments include producing Oregon Symphony broadcasts for NPR's Performance Today, teaching at four Northwest colleges, development of double reed manufacturing, publishing and recording.  Now retired from full time teaching and performing, he lives in Wallowa County where he is working on expanding his many publications and work related to the bassoon.
Lauren Guthridge
Lauren Guthridge was born and raised in Phoenix, Arizona, where she began studying oboe when she was 10 years old with Jill Masiello. Being a member of the Phoenix Youth Orchestra during her high school years encouraged Lauren to continue her musical studies throughout her undergraduate career at the University of Arizona. Studying under Dr. Neil Tatman, she graduated with a BA in music, emphasis on instrumental studies, in May 2012. In addition, Lauren graduated Magna Cum Laude with honors and also completed a chemistry minor. Lauren is currently working towards a Master's degree in Music, studying with Dr. Sara Fraker. In addition to performances with the premiere ensembles at the University of Arizona, including the Arizona Symphony, Wind Ensemble, and Chamber Winds, Lauren has also performed as acting principal oboe and second oboe with the Tucson Symphony Orchestra and as principal oboe and on English horn with the Southern Arizona Symphony Orchestra. Lauren has also had the opportunity to perform in master classes and receive instruction from renowned solo and chamber oboist Allan Vogel during the Tucson Chamber Music Winter Festival in 2011 and in 2012 from Dr. Lindabeth Binkley, former principal oboist of the Tucson Symphony and current Professor of Oboe at Central Michigan University.
Jeannie Wells Yablonsky
A member of the Seattle Symphony violin section since 2000, Yablonsky has performed in the music festivals of Aspen, Grand Teton and Norfolk (Connecticut), and the Cleveland Chamber Music Seminar. She was a founding member of the Camerino Chamber Music Festival (Italy), where she collaborated with many world-class musicians for five consecutive summers. Yablonsky was the Assistant Concertmaster of the Orquesta Ciutat de Barcelona and held the same position in the Bergen Filharmoniske Orkester (Norway). She graduated from the Cincinnati Conservatory of Music, where she studied with Dorothy Delay, and earned a Master of Music in Performance from Yale University School of Music, where she studied with Koichiro Harada. Yablonsky has collaborated with Seattle Chamber Players and Music of Remembrance, with whom she is featured on several recordings.