You are currently viewing: Tunesmith Night
Tunesmith Night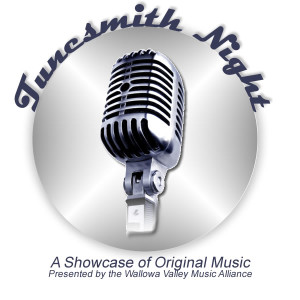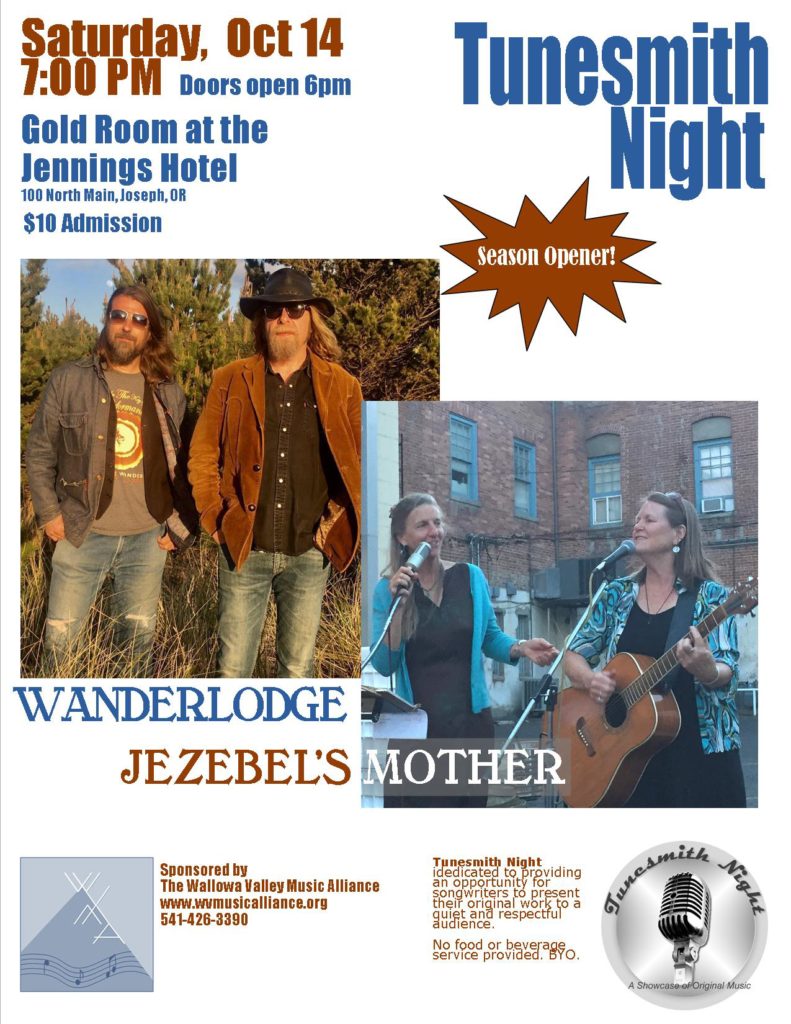 Tunesmith Night, Saturday, October 14, 2017 – 7PM
Gold Room at the Jennings Hotel, 100 North Main, Joseph, OR.
The Wallowa Valley Music Alliance is proud to announce the opening concert for 12th season of Tunesmith Night, a monthly showcase of original music. The Saturday, October 14 show features two Americana-flavored duos, Wanderlodge from Portland and Jezebel's Motherfrom Wallowa County. This edition of Tunesmith Night will be hosted by the Jennings Hotel in the historic Gold Room. The cozy atmosphere and warm sound will be a good match our listening audience.
Wanderlodge is Matt Cadenelli and Kris Stuart. Cadenelli is a longtime Portland musician and member of such bands as The Don of Division Street, Fernando, Brothers & Sister, Dr. Theopolis, Portland Country Underground, and others. Weaving together musical styles from Wilco to Nick Lowe to The Kinks to Neil Young, his sounds feature song-centric, melodious vistas aligned with insightful lyrical musings. Stuart has led the local power trio Rootjack in the NW stages for many years. A fierce electric slide/lead guitar player and gritty, soulful vocalist, his songs bring story and wisdom accessible by all audiences. Also a member of new local favorite rock and roll country band, The Deadstring Family Band and Allman Brothers tribute band Brothers & Sister. (More on Wanderlodge at https://www.facebook.com/wanderlodgemusic/)
Jezebel's Mother features songwriters Carolyn Lochert and Janis Carper, both residents of Wallowa County. With their brand new CD, Real Pearls, in hand, Lochert and Carper blend their talents to form a unique sound; swirling with rhythms and harmonies, sentiment and smiles, tight but spontaneous, each performance a musical adventure that reveals the bond of best friends. Lochert's career has taken her from singing lead in rock, country and funk bands to playing in the "horn" sections of jazz ensembles. Studying composition at OSU started her on the path to writing her own music. Her first album, She's Lookin' Back, features Lochert's smooth, sultry sound and some of Portand's and Wallowa County's finest musicians. A winner in the 2015 Indie International Songwriting Contest, Carper has nine recordings to her credit. Her soulful vocals, masterful guitar playing, and well-crafted songs have been heard at festivals, concert halls and radio programs nationwide. When not collaborating with Lochert, she keeps busy as founder and director of the Wallowa Valley Music Alliance. (More on Jezebel's Mother at jezebelsmother.com.)
Tunesmith Night is presented in a round-robin format, with each musician playing a song, then the next taking a turn, creating an interesting and varied performance. Admission is $10 at the door or by season pass. Doors open at 6pm, music at 7pm, all ages welcome. No food or beverage service provided—BYO.