You are currently viewing: Wallowa Fiddle Tunes Camp 2018
Wallowa Fiddle Tunes Camp 2018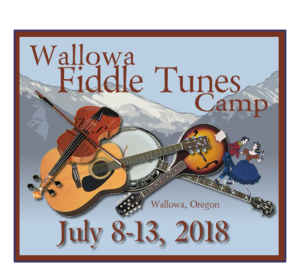 Welcome to the 14th year of Wallowa Fiddle Tunes Camp. Expect to be challenged musically, make new friends, and experience new learning opportunities. Dates: July 8-13, 2018.
We are pleased to introduce the instructors for Wallowa Fiddle Tunes Camp 2018:
(Instructor bios and class descriptions are coming soon! Registration will open on March 15, 2018)
Andy Emert
Southern/Swing Fiddle (Intermediate)
Lisa Ornstein
Southern/Cajun Fiddle (High Intermediate)
John Weed
Southern/Irish Fiddle (Low Intermediate)
Linda Robertson
Kidz Fiddle (Ages 8-12)
Duane Boyer
Guitar Boot Camp (Beginning)
Patrick Lind
Guitar (Intermediate)
Matt Bell
Guitar (Intermediate/Swing)
Stuart Mason 
Guitar (Intermediate/DADGAD)
Alan Feves
Bass (Multi-levels)
Maggie Lind
Clawhammer Banjo (Intermediate)
Larry B. Smith
Dance master (Mixed Levels)
---
We're also offering  a Mini-Camp for Kids ($60) for the younger students again this year. Check it out here!  Thank you Emerson Music Arts for providing this great addition to camp!
Wallowa Fiddle Tunes Camp was begun in 2005 with the goal of offering affordable, group fiddle instruction for individuals and families in a relaxed, week-long camp format.  Participating in a musical community through music and dance has resulted in the addition of instruction in other accompaniment string instruments as well as on-site technique of ensemble participation.
For questions about the camp, instructors and classes, please contact camp director Carla Arnold: 541-663-0776 (home) 541-786-4535 (cell).
Registration fee for this year's camp is $200, and lunches cost $62 for the week.