Wallowa Fiddle Tunes Camp 2017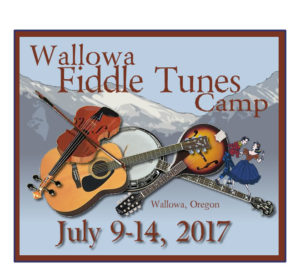 Welcome to the 12th year of Wallowa Fiddle Tunes Camp. Expect to be challenged musically, make new friends, and experience new learning opportunities. Dates: July 9-14, 2017.
We are pleased to introduce the instructors for Wallowa Fiddle Tunes Camp 2017:
Loralyn Staples –  Basic Adult Fiddle (High Beginner)
Andy Emert – Swing/Misc. Fiddle (Advanced)
Lisa Ornstein – Cajun Fiddle (Intermediate)
John Weed – Irish Fiddle (Intermediate)
Eric Jepsen –  Bluegrass Fiddle (Intermediate)
Linda Robertson – Kidz Fiddle (Ages 8-12)
Duane Boyer – Guitar Boot Camp (Beginner)
Jonah Shue – Bluegrass Guitar (Intermediate)
Matt Bell – Swing Guitar (Intermediate)
Stuart Mason – Vocals and mixed instruments, afternoon elective: DADGAD guitar
Larry B. Smith – Dance master (Mixed Levels)
---
We're also offering  a Mini-Camp for Kids ($60) for the younger students again this year. Check it out here!  Thank you Emerson Music Arts for providing this great addition to camp!
Click here for the afternoon elective classes we are planning.
Meet Ken Pollard, our camp luthier.
---
Wallowa Fiddle Tunes Camp was begun in 2005 with the goal of offering affordable, group fiddle instruction for individuals and families in a relaxed, week-long camp format.  Participating in a musical community through music and dance has resulted in the addition of instruction in other accompaniment string instruments as well as on-site technique of ensemble participation.
Here's some insight on our camp from returning instructor Loralyn Staples–check it out.
For questions about the camp, instructors and classes, please contact camp director Carla Arnold: 541-663-0776 (home) 541-786-4535 (cell).
Registration fee for this year's camp is $200, and lunches cost $62 for the week.
---
Here are some "basics" for review as preparations for camp begin;
History of camp
Peter Donovan had attended a similar camp called Kittitas Fiddle Tunes Workshop and returned inspired to begin a similar model of camp beginning in 2005. Under the organizational umbrella of Wallowa Valley Music Alliance, Peter built a wonderful, family oriented fiddle camp in the small Eastern Oregon town of Wallowa, utilizing the generosity of the Wallowa Elementary School and school grounds. Peter resigned from participation as director of the Fiddle Camp after the 2011 camp, to pursue interests that keep him traveling on the road in his new digs..a home built into a yellow school bus!
School and facilities Use
The Wallowa School District has requested that we have no alcohol, drugs or firearms on school property. Dogs are welcomed, but must remain on a leash and cleaned up after ..( you know what!). Quiet hours are 11 PM to 7 AM.
Camp highlights
Camp director, Carla Arnold has been involved with the camp as a fiddle and guitar instructor since 2005. After consulting with other instructors last year, the camp staff has decided to continue to collaborate and incorporate new ideas:
1. Sunday evening- Introduce the class instructors and enjoy "sound bites" of their playing.
2. Add a full time "dance master" to teach buck dancing (Appalachian clogging) as well as waltz techniques and community dance basics.
3. Offer an array of daily afternoon electives based on student and instructor interests.
4. Give campers a rest on Wednesday afternoon and an opportunity to explore beautiful Wallowa County, practice alone, or with new friends, as well as jam with others or take a LONG nap.
Camp meals and snacks
Beth Gibans will our caterer this year. Beth is a strong supporter of what our camp is about; bringing friends and families together to stretch and grow in musical traditions.
Beth will be providing a daily lunch (Monday through Friday) and an afternoon snack. If you choose to participate in a snack, please make an additional financial contribution by to a donation jar. A nutritious, daily lunch is provided for a list of campers that have pre-paid a $62 lunch fee as part of their registration. limited dietary accommodations may be pre-arranged with Beth at
Backyard Gardens Produce & Catering
c/o Beth Gibans
PO Box 463
Joseph, Oregon 97846
cell: 541-398-0707
info@backyardgardensjoseph.com
catering@backyardgardensjoseph.com
Camp volunteers and chore list
A big thank you to many campers that have pitched in to help keep this camp running smoothly, from moving furniture around in classrooms, replenishing bathroom paper products, helping Erin in the kitchen, running the Open Mic, emptying trash, putting up posters, …the list is long! Keep your eyes open for an opportunity to volunteer with the chore list will be available emails upcoming email, as well as a sign up form at camp.
Keeping Cool
Traditionally, the week spent in Wallowa can be very warm.  This year (2017) will be the fifth time to utilize an Industrial Porta Cooler to be used in the gym. Last year, many student brought electric fans to use in the classroom.  Please be sure to label your fan, and take it home at the end of camp. The school shower room is available in the morning and evening.  Sometimes the water temperature is on the cooler side and is appreciated in a different way during extreme hot weather.
Camp Evaluation
A short evaluation will be made available at the end of the week.  We are always looking for ideas to consider in keeping this camp tradition alive and fresh.
Pre-deposit for next year's camp
A  $50.00, post dated  check (January, 2018)  will hold you a class spot for next year's camp.  There is a simple form to fill out and attach to your check on the last day of camp. Forms will be made available at the main information table in the multi purpose room.