You are currently viewing: Wallowa Fiddle Tunes Camp
Wallowa Fiddle Tunes Camp
The 13th annual Wallowa Fiddle Tunes Camp will be held at the Wallowa School in Wallowa, Oregon from Sunday,  July 9-14, 2017, sponsored by the Wallowa Valley Music Alliance.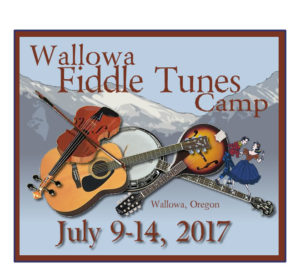 Click here for the latest updates.
---
Wallowa Fiddle Tunes Camp Scholarships
Each year WVMA offers scholarship money to pay for half of the tuition for camp, and is pleased to announce the addition of the Charles Trump Memorial Scholarship in 2013. Charles was a well loved and admired old-time fiddler in our community, and always encouraged folks to keep old-time fiddle music alive. This special scholarship will be awarded for the full amount of camp tuition, and is chosen from among all scholarship applicants by our scholarship committee.
Click here to download the Wallowa Fiddle Tunes Camp scholarship application form. 

If you'd like to contribute to our scholarship fund, click below.