Tunesmith Night March. 10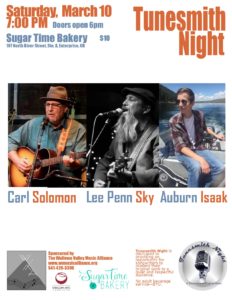 Tunesmith Night, Saturday, March 10, 2018 – 7PM
Sugar Time Bakery, 107 North River Street, Ste. A, Enterprise, Oregon
The Wallowa Valley Music Alliance presents another edition of Tunesmith Night, a monthly showcase of original music. The Saturday, February 10 show features songwriters Lee Penn Sky, Carl Solomon and Auburn Isaak. Venue is Sugar Time Bakery, located in the newly renovated Burnaugh Building on North River Street and will provide the perfect atmosphere for our listening audience.
Boise's Lee Penn Sky has a poetic songwriting style that is deceptively simple, but the unadorned nature of his writing makes the songs all the more powerful – his metaphorical lyrics have a way of cutting to the heart of a matter and his presentation is often compared to Colin Hay's solo work.  Sky has performed all around the northwest and has shared the stage with artists such as Glen Phillips from Toad the Wet Sprocket, the Black Lillies, the Barefoot Movement and Tony Furtado, and Allie Kral from Yonder Mountain String Band.
Carl Solomon hails from Portland and has been described as "The Weaver of New Americana Tales." After inheriting a beat poet's name, he grew up in Brooklyn N.Y. and later moved to Baltimore. Solomon crafts songs from his journey through life, from carnival barker to counselor to songwriter, painting portraits of characters, real or imagined. His use of language, recollections and humor reflects the diverse facets of the human experience which, when quilted together, form a collection of songs you won't soon forget.
Auburn Isaak is a self-taught singer-songwriter from Joseph, Oregon. Having always connected with music, and she taught herself to play guitar, write songs, and sing at an early age. Isaak's newer music style has notes of R&B but she remains true to her acoustic folk roots. She graduated from Eastern Oregon University in 2012 with a Bachelor of Science degree in Art, and continues to pursue her art career, with music remaining a creative outlet.
Tunesmith Night is presented in a round-robin format, with each musician playing a song, then the next taking a turn, creating an interesting and varied performance. Admission is $10 at the door or by season pass. Doors open at 6pm (SEATING IS LIMITED), music at 7pm, all ages welcome. Sugar Time will have the kitchen open for soups and sandwiches, in addition to their usual yummy sweet treats (BYO adult beverages).
###
Upcoming Tunesmith Night artists:
March 10 – Lee Penn Sky, Carl Solomon, Auburn Isaak
April 14 – An American Forrest, Michael Henchman, Alexa Wiley
May 12 – Tracy Spring, Nathaniel Talbot, MidLo