Lunch at Fiddle Camp
I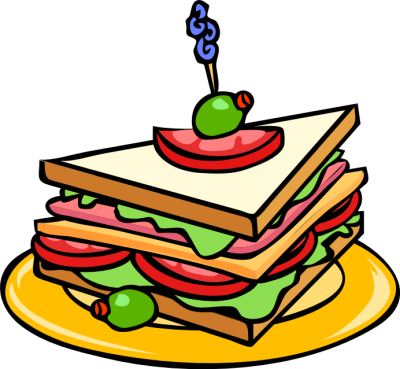 magine this…after 3 hours of Instruction, it's time for lunch.  You can smell the waft of fresh baked morning scones, as you head down the hall to join the line of folks congregating, visiting about this morning's workshop, looking at the afternoon schedule posted on the wall, ambling to the lunch buffet and chatting with new friends while piling food on your plate.  Ah…there is a place to sit, next to one of your new friends.  Mmmmm…homestyle cooked food.  Plenty of time to eat and visit.  Maybe go back for seconds?
Or this scenario…after three hours of instruction, you race down the hall, run outside to
be hit by the hot temperatures of the great outdoors.  Get to your tent and open your ice box.  Where is that jar of peanut butter?  Shoot.  It's almost empty.  Oh..no!  The bread.  Down to the last heel.  Grab for the milk to wash down the sandwich.  Someone drank the last of it and didn't run down to the corner grocery store to buy more.  Have to do that after the full afternoon of elective classes.  And pick up some more ice. (Look at watch) Yikes, barely time to get my instrument and head back to class.  An hour seems to fly when you have to make your own lunch.  Maybe next year I'll buy the lunch plan and have time to visit with my friends, eat and relax!
Beth Gibans of Backyard Gardens has prepared 5 daily lunch menus of fresh, delicious lunches to help you enjoy relaxing during your one hour of lunch during fiddle camp.  You can leisurely eat your lunch, visit with friends, and enjoy the cool temperature of the porta-coolered lunch room.  All for $62.  If you haven't signed up for the lunch plan, do so now, by choosing the lunch ticket option on the online registration HERE.
Eating is so fun…especially when someone else does the cookin'!
Notes from the chef:
There will be some gluten/dairy free offerings for all, such as quinoa, potato, cabbage, veggie and green salads, possibly chicken and rice dishes. I will probably serve some lunches with sandwiches or wraps, but will not put all together so there will be untainted food for the few gluten/dairy free requests I have had.
If you are gluten free due to celiac disease, you may want to play it safe, but if your gluten intolerance is less critical, you will probably be satisfied with what I serve. I plan on making some gluten and dairy free options, but will also probably repeat them. You could count on some combination of greens, blanched veggies, beans, hard boiled egg, rice or quinoa. I use olive oil, red wine or rice vinegar, citrus, spices, in my dressings, or mayonnaise, vinegar, herbs. I will be at orientation Sunday evening and we could talk there or you can call me at 541-263-1443.