Hootenanny May 21!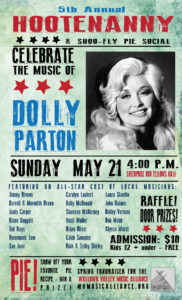 Wallowa Valley Music Alliance presents annual spring fundraiser
Hootenanny & Shoo-fly Pie Social
Sunday, May 21, 2017 – 4:00 pm, Enterprise Odd Fellows Hall
Mark your calendars for Sunday, May 21–it's the Wallowa Valley Music Alliance spring fundraiser–the fifth annual Hootenanny & Shoo-fly Pie Social at the Enterprise Odd Fellows hall.  This year's popular fundraising event will celebrate the music of Dolly Parton, featuring an all-star cast of local performers doing songs that were written or made popular by Parton, spanning the lifetime of his career. Performers featured at the Hootenanny include Jimmy Bivens, Darrell Brann, Meredith Brann, Janis Carper, Diane Daggett, Ted Hays, Homemade Jam, Sue Juve, Carolyn Lochert, Kelly McDonald, Shannon McNerney, Heidi Muller, Brian Oliver, John Raines, Caleb Samples, Rich & Trilby Shirley, Laura Skovlin, Bailey Vernam, Bob Webb, and Alyssa Werst. And…let there be PIE! Each year an impressive variety of home-baked goodness is lined up for concert-goers to sample for a mere $1 per slice, with a chance to vote for first, second and third place.  Bring your best pie and win a prize! There will be some great raffle prizes too. Proceeds from the Hootenanny go directly to fund Music Alliance programs, so please come on out and show your support at this fun-filled, family-friendly event. Admission will be $10
To sign up to donate your homemade pie, please call Heidi Muller at 541-432-0156. For more information, please contact the Music Alliance at 541-426-3390 or email info@wvmusicalliance.org.