You are currently viewing: Tunesmith Night
Tunesmith Night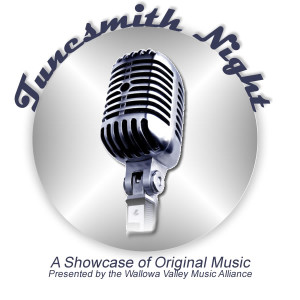 Tunesmith Night, Saturday, February 14, 2015 – 7PM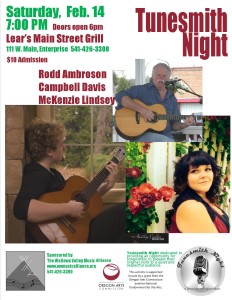 Lear's Main Street Grill, 111 W. Main, Enterprise, OR.
The Wallowa Valley Music Alliance celebrates Valentine's Day with another edition of the popular monthly songwriter showcase, Tunesmith Night, on Saturday, February 14. This month features Campbell Davis, McKenzie Lindsey and Rodd Ambroson.
 Campbell Davis is a native of Walla Walla, Washington, where the singer-songwriter began his career at the early age of 12. Growing up surrounded by music, he has always known music would be his life. Campbell became intrigued by the giants of guitar: Dave Matthews and Jimi Hendrix. Over the last two years, he has put his artistic efforts into original songwriting. And as a result, released a self-produced CD "On the Road" garnering immediate attention that landed him a spot opening for Ziggy Marley in front for 2500 concert goers.
McKenzie Lindsey was raised in Wallowa. Her interest in music started early on, with piano lessons at age 6, moving on to both classical and jazz voice for several years. She later learned guitar, and performed whenever she got the chance. McKenzie considers her style to be Indie-folk, influenced by such artists as Regina Spector, Norah Jones, and Lana Delray. When she's not performing at wineries and other venues in Walla Walla, Washington, she works at Frosted, a cupcake shop, in downtown Walla Walla.
Many may recognize Joseph painter and sculptor Rodd Ambroson for his stunning visual works, and that same passion is apparent in his music. With flowing fingerstyle guitar backing his warm, rich voice, his ballads are full of imagery, emotion, and attention to detail. Three of his songs appear on the compilation CD "Songs from the End of the Road" released in 2008.
Tunesmith Night is presented in a round-robin format, with each musician playing a song, then the next taking a turn, creating an interesting and varied performance. Admission is $10 at the door or by season pass. Doors open at 6pm, music at 7pm, all ages welcome. As always, hosts Steve and Cathi Lear invite you to enjoy this superb music event, where patrons are encouraged to sample the delicious cuisine Lear's Main Street Grill has to offer. Plus, there's a nice selection of beer, wine, and mixed drinks available for your enjoyment.