You are currently viewing: Tunesmith Night
Tunesmith Night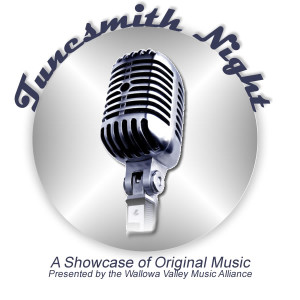 Tunesmith Night, Saturday, October 11, 2014, 7:00 PM
Lear's Main Street Grill, 111 W. Main, Enterprise, OR 97828
Back for its ninth season, Tunesmith Night resumes on Saturday, October 11 featuring songwriters Kory Quinn, Bill Valenti, and Eric Sinclair.
Songwriter Kory Quinn, a DIY contemporary hobo intellectual, has a refreshingly homespun take on Americana, a very welcome sigh of relief in today's contemporary market. After spending over 270 Self-Booked Dates on the road, spanning 7 countries, on three Continents this past year alone, Quinn still finds time to write and record new material. The just released second full-length album, At The End of The Bar, boils down red-dirt basics in a freewheeling roadhouse stew. Quinn's songwriting is adroit and surefooted, offering sturdily constructed country, folk, and Cajun-tinged songs for his ensemble to really sink their fangs into on this instant jukebox classic. The songs are short and sweet but packed with clever lines, sentimental harmonies and twangy fills. All that makes them the kind of songs that hang around your brain like honky-tonk regulars. Amongst his self penned road-worn material are stories and song that harken back to old-time drinking songs and heart rending country standards. In time they will be themselves for they are never new and they never get old.
Bill Valenti often introduces himself as a "submerging artist", having only started songwriting after having escaped to Bend, Oregon 6 years ago with an AARP card in his wallet.  His songs are proof that it is never too late to court the muse:  clever, humorous, satirical, poignant, thought-provoking, reflecting a life of adventures around the globe (20 years living in Europe and Asia).  Many of his songs are a form of musical commentary (usually satirical) on the burning issues of the day, and he focuses his more "political" songs on the common ground that crosses over the left/right divide in America.  Valenti has performed at numerous venues in Central Oregon (Tower Theater, Bend Roots Festival, High and Dry Bluegrass Festival, Sisters Folk Festival), Portland (Artichoke Music Theater), New York City (Town Hall in 2011 and Tribeca Performing Arts Center in 2012).  In 2012, Valenti was a Finalist in the Kerrville Folk Festival "New Folk" songwriting contest.  He plays guitar, nylon-string banjo, and a mandola named "Nelson".
Folks may recognize songwriter Eric Sinclair from the Wallowa County based band, Saigon County. Sinclair takes this opportunity to showcase some of his original material that the band has yet to add to its repertoire.
Tunesmith Night is presented in a round-robin format, with each musician playing a song, then the next taking a turn, creating an interesting and varied performance.  Admission is $10 at the door or by season pass. Doors open at 6pm, music at 7pm, all ages welcome. Our popular Season Passes will be available for purchase at this performance for $65. That covers all eight shows of the 2014-15 season (second Saturday, October through May), which will remain at $10 per show, standard admission.
Our hosts, Steve and Cathi Lear, invite you to enjoy this superb music event, and we encourage patrons to sample the delicious cuisine Lear's Main Street Grill has to offer. Plus, there's a nice selection of beer, wine, and mixed drinks available for your enjoyment.
.