You are currently viewing: Tunesmith Night
Tunesmith Night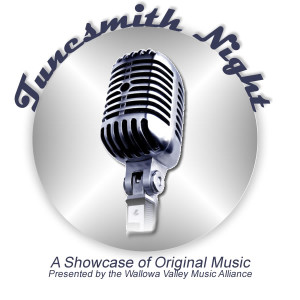 Tunesmith Night, Saturday, March 14, 2015 – 7PM
Lear's Main Street Grill, 111 W. Main, Enterprise, OR.
The Wallowa Valley Music Alliance presents another edition of the popular monthly songwriter showcase, Tunesmith Night, on Saturday, March 14. This month features Lewi Longmire, Anita Lee Elliott, and MidLo.
Lewi Longmire has built a reputation as Portland's multi-instrumentalist "go to guy," having been included in shows and recordings by many of the Northwest's finest bands and songwriters. He's played with national acts Michael Hurley, Victoria Williams, Dolorean, AgesandAges, and many others. He's also played with a host of regional luminaries including Midlo/Pancake Breakfast, Casey Neill, Michael Jodell, the Freak Mountain Ramblers, and is an anchor member of Portland's all-star tribute to the Allman Brothers, Brothers and Sister. Longmire fronts his own roots rock/Americana band, The Left Coast Roasters, playing his original compositions and honoring the American tradition of good songs played with high energy, deep roots, and an unpretentious sense of fun.
Anita Lee Elliott (Viva Voce, Calico Rose, Brothers and Sister) is a Portland-based guitarist and songwriter. Originally from Alabama, her influences are equal parts classic country and psychadelic rock and roll.
Once upon a time, a little kid got a big guitar. They got along real good. 38 years later, Mike Midlo and his six string still do. They've fallen down flights of stairs together, taken flights in the air together, played campfires, bar rooms, front porches, and concert stages from sea to shining sea. They've welcomed youngsters into the world, and helped send friends across to the next one. You'll hear some good stories at a MidLo show.
Tunesmith Night is presented in a round-robin format, with each musician playing a song, then the next taking a turn, creating an interesting and varied performance. Admission is $10 at the door or by season pass. Doors open at 6pm, music at 7pm, all ages welcome. As always, hosts Steve and Cathi Lear invite you to enjoy this superb music event, where patrons are encouraged to sample the delicious cuisine Lear's Main Street Grill has to offer. Plus, there's a nice selection of beer, wine, and mixed drinks available for your enjoyment.
Upcoming Tunesmith Night Performances:
April 11 – Gareth Tabor, Edmund Wayne, Heidi Muller
May 9 – Tracy Spring, Dan Weber, Janis Carper