You are currently viewing: Tunesmith Night
Tunesmith Night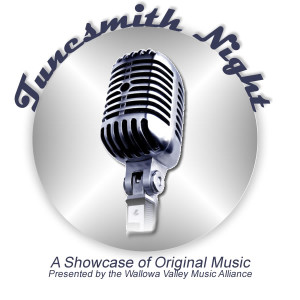 Tunesmith Night, Saturday, May 10, 2014, 7:00 PM
Lear's Main Street Grill, 111 W. Main, Enterprise, OR 97828
We wrap up another fine season of Tunesmith Night on Saturday, May 10 with a stellar lineup of songwriters. Dennis McGregor and Willie Carmichael from Bend, Oregon, and Karin Blaine from Whidbey Island, Washington.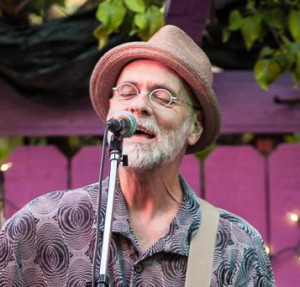 Dennis McGregor started out in the 1970s with the original acid-swing group, Natty Bumppo. His electric violin and wacky songs were a key element of their uniquely exciting style, which led to opening for acts like Jimmy Buffett and The Dirt Band. He moved to Sisters, working as an artist who became nationally recognized for his posters and prints, and got back into music via the Sisters Folk Festival. He won their songwriting contest in 2003, released his first solo CD in 2004 and a year later was featured on OPB's Oregon Art Beat. McGregor's often wryly twisted songs are well-loved for their humor, lyrical wit and social relevance. His fingerpickin' guitar and deep voice add to his unique mix of jazzy pop-folk. "Dennis McGregor is a clever, captivating, crackerjack songwriter with a keen wit and a keen ear. His sweetly sardonic, ruefully wry observations on the human condition make me laugh, ache, think, and sing along," writes Monterey DJ and television producer Arden Eaton.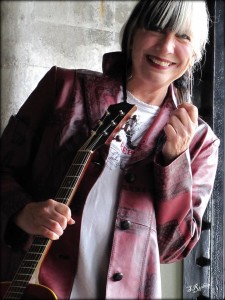 Karin Blaine is a resident of Whidbey Island, WA. A dynamic singer-songwriter with an edgy, original style, she started writing in Seattle in the '80's and has released three CDs. She describes her music as a 'Liza-Minelli-meets-Bob-Dylan-meets-Dick-Cavett' kind of experience: part diva, part poet and part smart aleck. She likens her show to a jazz solo – a unique one-of-a-kind experience shared with her audience that will never happen again in the same way. Blaine has appeared on national stages such as Seattle's Bumbershoot Festival, Boston's Club Passim, and The Crypt Coffeehouse in New York City. A New Folk Songwriting Finalist at the prestigious Kerrville Folk Festival, she has appeared onstage with Tom Paxton, John Gorka and many others. Rob Harrison of Examiner.com said, "…Karin writes and sings with clarity and a sense of the poetic. She knows how to craft her music well, and delivers it clearly. A reminder of the folk queens: Joni Mitchell, Joan Baez, Judy Collins, and yet a little Grace Slick, Tracy Chapman, and Don McLean, with a jazz edge thrown in. She isn't imitating anyone."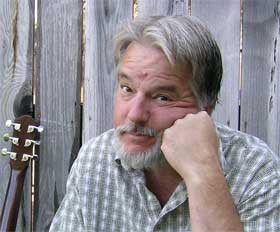 Willie Carmichael, an Americana songwriter from Bend, is one of the truly nice guys on Central Oregon's music scene. He won the Dave Carter Memorial Songwriting Contest at the 2010 Sisters Folk Festival. Often called "the alt-country Leonard Cohen," he swings from serious and skeptical to goofy and optimistic. His songs lure you into a world of clumsy love, hilarious failure, and tender sorrow. With three CDs, Carmichael describes his songs as "life, death and the whole Mary Ann in four minutes or less" and "love songs for those who prefer a very firm mattress." David Jasper of the Bend Bulletin says, "Carmichael's sensibilities cross over into his character-driven songs: bittersweet, angry and humorous folk tales whose subjects seemingly take on a life of their own."
Tunesmith Night is presented in a round-robin format, with each musician playing a song, then the next taking a turn, creating an interesting and varied performance.  Admission is $10 at the door or by season pass. Doors open at 6pm, music at 7pm, all ages welcome.
Our popular Season Passes will be available for purchase at this performance for $65. That covers all eight shows of the 2014-15 season (second Saturday, October through May), which will remain at $10 per show, standard admission. We really appreciate all those music-lovers who bought season passes this year—it helps us get a jump on the program costs. We would like to extend a special thank you to Steve and Cathi Lear and their staff at Lear's Main Street Grill for hosting the series.
.