You are currently viewing: Tunesmith Night
Tunesmith Night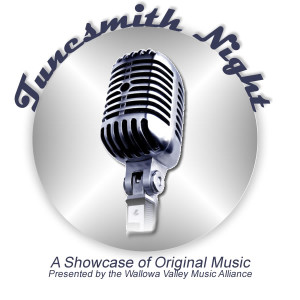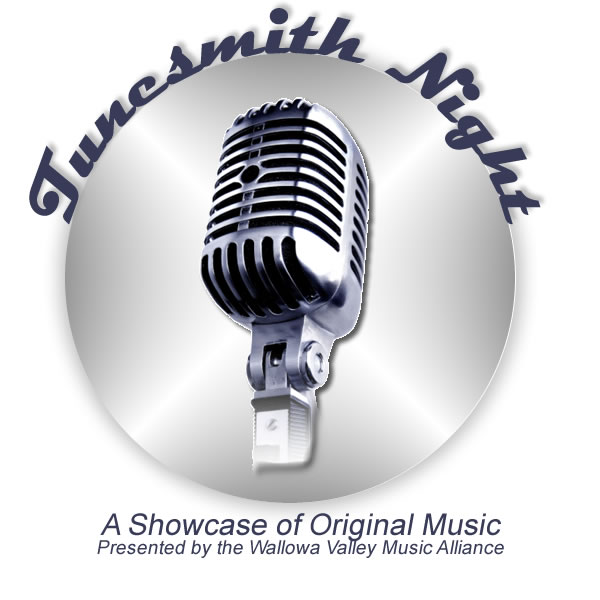 Tunesmith Night, Saturday, May 13, 2017 – 7PM
Burnaugh Building, 107 N. River Street, Enterprise, OR.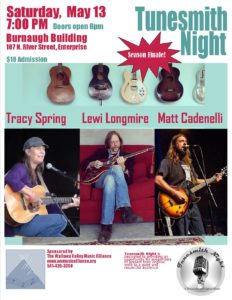 The Wallowa Valley Music Alliance wraps up its 10th season of Tunesmith Night on Saturday, May 13,  featuring songwriters Tracy Spring, Lewi Longmire and Matt Cadenelli. This special season finale concert will be held in the newly, beautifully renovated historic Burnaugh Building in Enterprise.
 Tracy Spring is no stranger to Tunesmith. An award-winning folk and blues songwriter from Bellingham, Washington, she makes the trek to beautiful Wallowa County at least once a year. She's been busy writing new songs for 5 album projects and is looking forward to playing some of them for you, as well as some old favorites.
Lewi Longmire has built a reputation as Portland's multi-instrumentalist "go to guy." In the years since relocating to Portland from Albuquerque, New Mexico, he's been included on shows and recordings by many of the Northwest's finest bands and songwriters. He's played with national acts Michael Hurley, Victoria Williams, Dolorean, AgesandAges, Sallie Ford & the Sound Outside, Blue Giant/Viva Voce/The Robinsons, Dolorean, the Minus 5, Breathe Owl Breathe and Tara Jane O'Neill as well as local luminaries Denver, The Portland Country Underground, Midlo/Pancake Breakfast, Quiet Life, Fernando, James Low, Perhapst, Electric Ill, Little Sue, Casey Neill, Michael Jodell, the Freak Mountain Ramblers, and is an anchor member of Portland's all-star tribute to the Allman Brothers, Brothers and Sister.
Matt Cadenelli is a longtime Portland musician and member of such bands as The Don of Division Street, Fernando, Brothers & Sister, Dr. Theopolis, Portland Country Underground, and others. Weaving together musical styles from Wilco to Nick Lowe to The Kinks to Neil Young, his sounds feature song-centric, melodious vistas aligned with insightful lyrical musings.
Tunesmith Night is presented in a round-robin format, with each musician playing a song, then the next taking a turn, creating an interesting and varied performance. Admission is $10 at the door or by season pass. Doors open at 6pm, music at 7pm, all ages welcome. There will be food service by Panini's and beverage service available.