You are currently viewing: Tunesmith Night
Tunesmith Night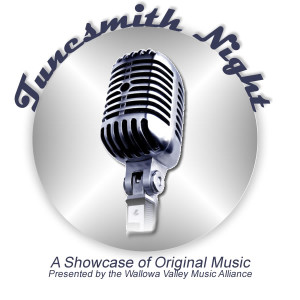 Tunesmith Night, Saturday, December 13, 2014 – 7PM
Lear's Main Street Grill, 111 W. Main, Enterprise, OR.
The Wallowa Valley Music Alliance presents another fine edition of their monthly songwriter showcase, Tunesmith Night, on Saturday, December 13. This month features Tom Drake, Bart Budwig, and Andrew Esquibel.
From Moscow, Idaho, Tom Drake was born in the ancestral stomping grounds of Merle Haggard, John Steinbeck and Woody Guthrie, and raised all over the USA. Drake crafts songs to leap the canyon between the heart and head, the poet and roadhouse, the grapes of wrath, the red mud Mississippi back roads and the old West.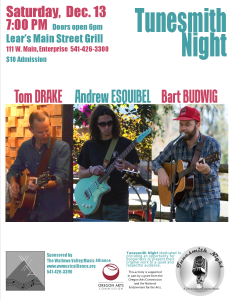 The music of Bart Budwig bridges the gap between the wide-open sprawl of classic Americana, the insightful observations of folk and the grit and honesty of authentic country. Recently relocating to Enterprise from the Palouse country of Idaho, Budwig brings songs that are highly evolved, utterly natural and unwaveringly human.
Wallowa County musician Andrew Esquibel, whose skill as a guitarist has been well known locally, now makes his Tunesmith debut with recently penned songs inspired by "Emily Bronte, Eva Cassidy, and 100.7 FM The Bull."
Tunesmith Night is presented in a round-robin format, with each musician playing a song, then the next taking a turn, creating an interesting and varied performance. Admission is $10 at the door or by season pass. Doors open at 6pm, music at 7pm, all ages welcome. As always, hosts Steve and Cathi Lear invite you to enjoy this superb music event, where patrons are encouraged to sample the delicious cuisine Lear's Main Street Grill has to offer. Plus, there's a nice selection of beer, wine, and mixed drinks available for your enjoyment.