You are currently viewing: Tunesmith Night
Tunesmith Night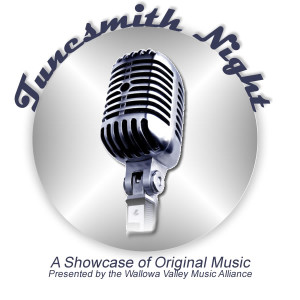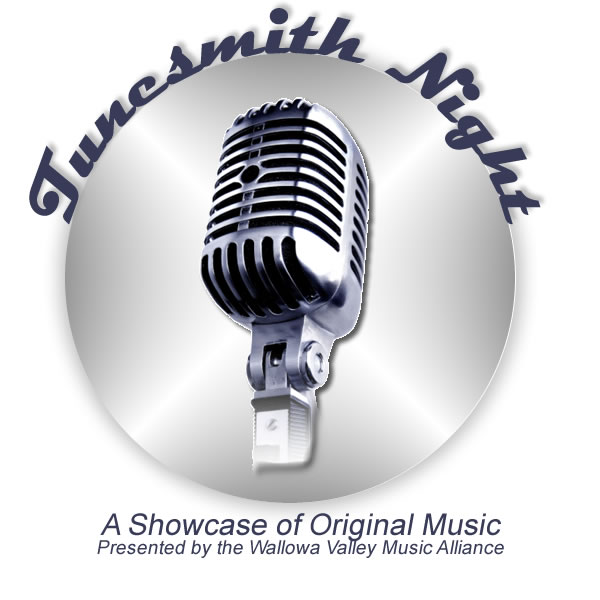 Tunesmith Night, Saturday, April 8, 2017 – 7PM
Stockman's Lounge, 107 W. Main, Enterprise, OR.
The Wallowa Valley Music Alliance continues its 10th season of Tunesmith Night, a monthly showcase of original music. The Saturday,  April 8 concert will feature Carl Solomon, Ivy Ross Ricci, and Malachi Graham.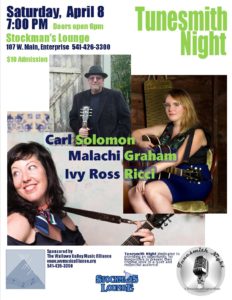 Carl Solomon has been described as "A Weaver of New Americana Folk Tales." After inheriting a beat poet's name, Carl grew up in Brooklyn N.Y. and later moved to Baltimore. Carl's kaleidoscope of songs are crafted from his diverse & varied life experiences, a few of which include: carnival barker, clerk, counselor, musician and songwriter. Using his observation and insight into human relationships, Carl has crafted unique stories from the many folks he has encountered in his travels. His songs lay out images you can see, feel and touch. Solomon was a finalist in the inaugural TR Ritchie Memorial Songwriting Contest at Juniper Jam 2016.
Ivy Ross Ricci's unique sound employs country, folk and rock elements to convey tales from the road, dream visions, and hopeful prisons.  Listening to her music is like a starry walk through a landscape of unlikely images or a philosophical conversation with a dear friend.  Written, recorded, produced, and performed from Texas to Maine and back again, New Mexico to Oregon to Washington and more, her original songs embody Americana to the core. Ivy is based in Port Angeles, Washington, where she teaches music and yoga and makes handmade paper with her beloved spouse, Joel.
Portland-based songwriter Malachi Graham writes lush, intimate noir Americana inspired by complicated heroines, with forceful, nuanced electric guitar and vocals. Her sound is neo-nostalgic and melodic, bluesy and moving, with rolling rhythms and soulful acoustics. On her debut EP Selfish (2015), recorded to eight-track tape at Mike Coykendall's Blue Room Studios in Portland, she channels female voices that are intoxicating, sabotaging, mesmerizing, and not preoccupied with being liked.
"Malachi Graham's roots in Oregon go all the way back to the Oregon Trail, and her voice sounds like it, steeped in the individualism that won the West but also could make it a lonely place."   — Portland Tribune
Tunesmith Night is presented in a round-robin format, with each musician playing a song, then the next taking a turn, creating an interesting and varied performance. Admission is $10 at the door or by season pass. Doors open at 6pm, music at 7pm, all ages welcome.
Upcoming Tunesmith Night Artists:
Season Finale: May 13—Tracy Spring, Matt Cadenelli, Lewi Longmire