You are currently viewing: Tunesmith Night
Tunesmith Night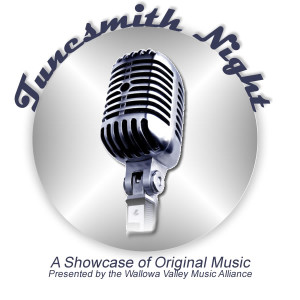 Tunesmith Night, Saturday, December 12, 2015 – 7PM
Lear's Main Street Grill, 111 W. Main, Enterprise, OR.
The Music Alliance continues its season of Tunesmith Night on Saturday, December 12 featuring Al Bell, Kory Quinn and Elwood.
Tunesmith Night is presented in a round-robin format, with each musician playing a song, then the next taking a turn, creating an interesting and varied performance. Admission is $10 at the door or by season pass. Doors open at 6pm, music at 7pm, all ages welcome. As always, hosts Steve and Cathi Lear invite you to enjoy this superb music event, where patrons are encouraged to sample the delicious cuisine Lear's Main Street Grill has to offer. Plus, there's a nice selection of beer, wine, and mixed drinks available for your enjoyment.
Upcoming Tunesmith Night Artists:
January 9 – Edmund Wayne, Mike Cramer, Brent Wydrinski
February 13 – Bart Budwig, Eric Sinclair, MidLo
March 12 – Simon Tucker, Carolyn Lochert, Joey Carper
April 9 – Andrew Esquibel, Steve Gibson, TBA
May 14 – Heidi Muller, TBA