You are currently viewing: Tunesmith Night
Tunesmith Night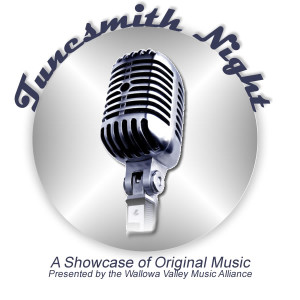 Tunesmith Night, Saturday, October 10, 2015 – 7PM
Lear's Main Street Grill, 111 W. Main, Enterprise, OR.
The Music Alliance will launch another season of Tunesmith Night on Saturday, October 10 featuring Laddie Ray Melvin, Jesse Johnson and Dakota Brown.

      Tunesmith Night is presented in a round-robin format, with each musician playing a song, then the next taking a turn, creating an interesting and varied performance.  Admission is $10 at the door or by season pass. Doors open at 6pm, music at 7pm, all ages welcome.
Our popular Season Passes will be available for purchase at this performance for $65. That covers all eight shows of the 2015-16 season (second Saturday, October through May), which will remain at $10 per show, standard admission. A special thank you goes out to Steve and Cathi Lear and their staff at Lear's Main Street Grill for hosting the series.