You are currently viewing: Tunesmith Night
Tunesmith Night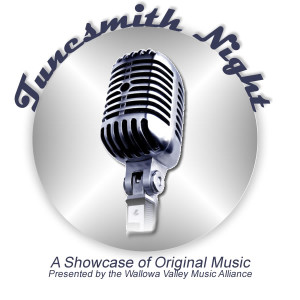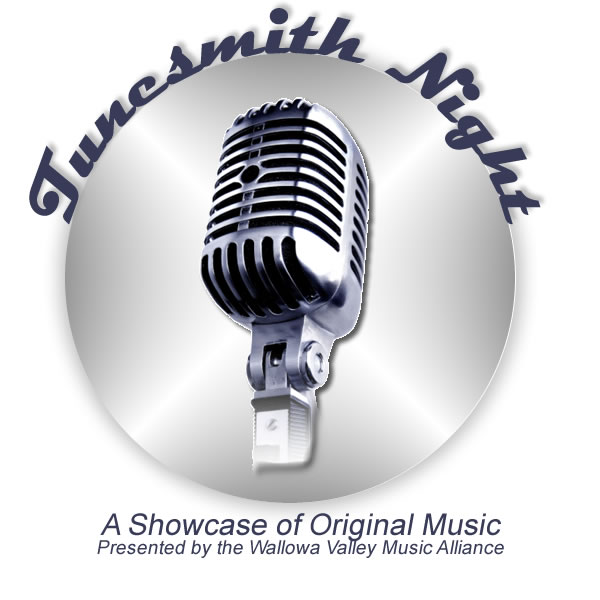 Tunesmith Night, Saturday, February 11, 2017 – 7PM
Stockman's Lounge, 111 W. Main, Enterprise, OR.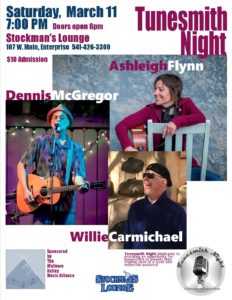 The Wallowa Valley Music Alliance continues its 10th season of Tunesmith Night, a monthly showcase of original music. The Saturday, March 11 concert will feature Ashleigh Flynn, Dennis McGregor and Willie Carmichael.
Portland's  Ashleigh Flynn grew up in Kentucky and cut her teeth on local bluegrass music. She arrived on the national scene in 2008 with the release of her third record, American Dream, and continues playing national and international stages with the release of A Million Stars (2013) Flynn's fourth studio effort on her own Home Perm Records, is produced by Chris Funk, her longtime friend and musical collaborator, best-known as the Decemberists' multi-instrumentalist. The record features Todd Snider and many of Portland's most talented musicians including, Chris Funk, Jenny Conlee-Drizos, Nate Query, John Moen, among others. A prolific songwriter, Flynn is also an electrifying performer blessed with unbridled charisma. Other full-length studio records include Chokecherry (2002) and Ashleigh Flynn, self-titled (1999) and a live record, Sneakin' Out with Ashleigh Flynn (2005) Flynn and her band performed at Juniper Jam 2016.
Dennis McGregor's songs are often wryly twisted, making them pretty much impossible to call normal. That's what people like most about them. They are plenty musical though, and at times rather "hookish", finding permanent homes in many a listener's head. McGregor hails from Sisters, Oregon, where he also works in the visual arts. With several recordings to his credit, he won the Sisters Folk Festival songwriting contest in 2003.
With eight CDs ((two solo, one with his band The Jack-Booted Thugs, and five as co-writer) Willie Carmichael is beginning to get the hang of the songwriting thing. Big, loud, profane and sweet, Willie's been compared to Jason Isbell, Greg Brown, and Guy Clark. His writing influences  include Stephen Foster, Chuck Berry, Randy Newman and Mary Chapin Carpenter. Some of highlights of his career include: Wnner of Sisters Folk Festival Dave Carter Songwriting Contest; Honorable Mention, Woody Guthrie Songwriting Contest; Nominee, Best Lyrics (Jesus and the Ice Cream Man), Just Plain Folks. Carmichael's music has also been featured on Lufthansa Airlines Frankfurt-Moscow flights.
Tunesmith Night is presented in a round-robin format, with each musician playing a song, then the next taking a turn, creating an interesting and varied performance. Admission is $10 at the door or by season pass. Doors open at 6pm, music at 7pm, all ages welcome.
Upcoming Tunesmith Night Artists:
Apr 8—Carl Solomon, Ivy Ross Ricci, Malachi Graham
May 13—Tracy Spring, Matt Cadenelli, Lewi Longmire