You are currently viewing: Tunesmith Night
Tunesmith Night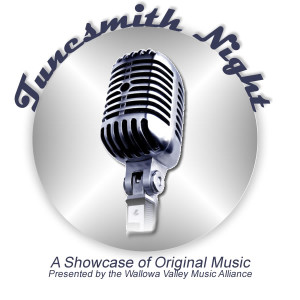 Tunesmith Night, Saturday, March 8, 2014, 7:00 PM
Lear's Main Street Grill, 111 W. Main, Enterprise, OR 97828
Featuring: Bart Budwig, Joey Carper, Elwood w/ Moorea Masa
The Wallowa Valley Music Alliance continues their monthly songwriter showcase, Tunesmith Night, on Saturday, March 8 with Bart Budwig, Joey Carper, Elwood with Moorea Masa.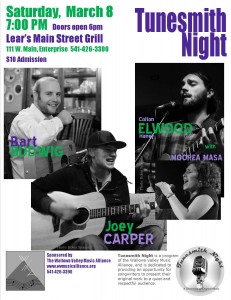 A lifelong musician, Bart Budwig grew up playing brass but switched to guitar after realizing that he couldn't sing and play trumpet at the same time. "The first song I learned on guitar is "Big Blue Sea" by Bob Schneider. After that I wrote a song and within one week performed at an open mic. I've been writing songs ever since." He has recently released a new CD: Whiskey Girl. With two highly regarded EPs and a history of sharing the stage with the likes of Rocky Votolato, Joe Pug, Laura Gibson, Matt Pond PA and Sera Cahoone already to his credit, Whisky Girl is Budwigs's first full length album, but his music is instantly familiar and from the very first song, instantly likable. "My songs are very emotional and personal," Budwig says. "They are honest and intimate. I can't help but write that way and it means a lot when people connect. I want my songs to show how human I am and I think people can really connect with that."  The Palouse where he grew up is full of nature's wonders, with wide open, sprawling skies, gently undulating hills and seas of waving wheat, grasslands and fields of hops and grapes. With its inviting, unhurried feel, gorgeously sublime melodies and easy confidence, Whisky Girl has that tangible sense of place that separates the good songwriters from the great ones. And with lyrics that speak of hopes and heartbreaks, Whisky Girl announces a talented, nuanced songwriter with a direct line to the hearts of listeners.
Joey Carper has been a performing musician since the age of almost three. He recalls his first gig, an original blues number he played on the harmonica with his mom backing on slide guitar at a New Year's Eve party. He got his first real drum set at the age of eight, in his parents' effort to salvage the household cookware. Carper enjoyed his role of driving force in the Enterprise High School pep band for many years, and then went on to play drums for the original rock-blues-Americana group The Alibis, Wallowa County's own heavy metal band Stone Orchard, and Houston, Texas rock group Vice Verse Us. He joined Northwest favorites Bitterroot and Kory Quinn for their mash-up tour as Lowdown Whiskey Rebels this winter and currently makes his home in Union, Oregon. Carper's songwriting started at a young age as well, and his first performances as a songwriter included his own accompaniment on a charming little banjo-lin at the age of about six. He tagged along with his musician mom to festivals around the country, and ended up with quite a knack for putting a song together. He picked up some impressive guitar skills along the way, experimenting with open tunings and intricate rhythms, and adds vivid image-laden lyrics to that natural groove. His voice is full of passion, warmth and edge, and the depth of his writing belies his youthful age of only twenty-two.
What is it that moves your soul? For Elwood it has always been the ever awe-inspiring serenity and sheer power of Mother Nature and you can feel it in his music. The trickle of a small stream, the roar of a thunder cloud, the pure silence of meadow lit by the coming of the sun….these are the things that sit at the very core of Elwood's music. His musical influences include John Prine, Trevor Hall, Breathe Owl Breathe, Medicine for the People, The Eagles, Flobots, Bob Marley, The Tallest Man on Earth, and Mumford & Sons. After 3 years of playing shows almost every weekend with the Portland-based band Bitterroot, Elwood is focusing on the countless songs from his early beginnings as a songwriter, and new songs that don't fall into the groove and style of Bitterroot. With new roots stemming out into a new life, with new music and new journeys ahead, who knows where it all will take him…..
Currently appearing with Elwood on a mini-tour, and joining him for this Tunesmith Night is Moorea Masa. Masa's thick and resounding voice evokes Etta James, Mahalia Jackson, and other great singers of early R&B and gospel music.
Held every second Saturday, October through May, this monthly showcase of original music is an opportunity for songwriters to present their work to a supportive listening audience, sharing insights with the listeners and camaraderie with their fellow tunesmiths. The show is presented in a round-robin format, with each musician playing a song, then the next taking a turn, creating an interesting and varied performance. Admission is $10 at the door or by season pass. Doors open at 6pm, music at 7pm, all ages welcome.
Upcoming Tunesmith Night Artists:
April 12— Alexa Wiley, Dan Weber, TBA
May 10–Karin Blaine, TBA
.