You are currently viewing: Tunesmith Night
Tunesmith Night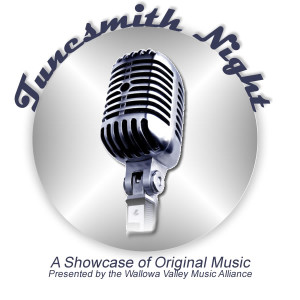 Tunesmith Night, Saturday, April 11, 2015 – 7PM
Lear's Main Street Grill, 111 W. Main, Enterprise, OR.
The Wallowa Valley Music Alliance presents another edition of the popular monthly songwriter showcase, Tunesmith Night, on Saturday, April 11. This month features Edmund Wayne, Heidi Muller and Gareth Tabor.
Tunesmith Night is presented in a round-robin format, with each musician playing a song, then the next taking a turn, creating an interesting and varied performance. Admission is $10 at the door or by season pass. Doors open at 6pm, music at 7pm, all ages welcome. As always, hosts Steve and Cathi Lear invite you to enjoy this superb music event, where patrons are encouraged to sample the delicious cuisine Lear's Main Street Grill has to offer. Plus, there's a nice selection of beer, wine, and mixed drinks available for your enjoyment.
Tunesmith Night is dedicated to providing an opportunity for songwriters to present their original work to a quiet and respectful audience. Our 2015 programs receive support from the Oregon Arts Commission.
Upcoming Tunesmith Night Performances:
May 9 – Tracy Spring, Dan Weber, Janis Carper